Czyżów Szlachecki
Practical Information
Detailed Information
Surrounding Accommodation
Tourist opinions
Detailed Information

Zwiń

Rozwiń
Location
County:

sandomierski

Community:

Zawichost

Address:

Czyżów Szlachecki

Latitude:

50.825619

Longitude:

21.784961

Tourist region:

Sandomierz Region
Contact details
Surrounding Accommodation

Zwiń

Rozwiń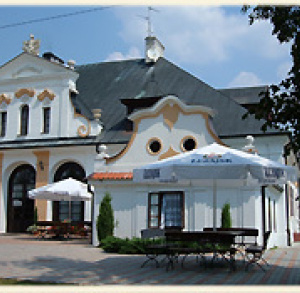 Pałac
Czyżów Szlachecki

+48 15 835 51 45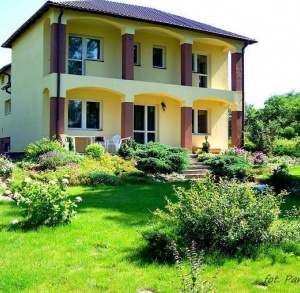 Tourist opinions

Zwiń

Rozwiń
Description
Traveling from Zawichost to Ożarów one comes to a little village of Czyżów Szlachecki famous for its perfectly renovated palace from 1740-1751. It was built for castellan of Połaniec Aleksander Czyżowski in place of a Gothic fortress destroyed by Swedes. The late-Baroque building has two stories, arcaded ground floor in front, and richly ornamented portal. Surrounded by remains of the former landscape park, the palace houses a rest and recreation tourist center with suites, restaurant, and conference rooms. There are also sports grounds, fish ponds, and stables with horses, sometimes used for purposes of hippotherapy. Tours of the palace for tourists and other visitors are available on request. The Zielonka forest reserve is not far away. It is home to 100-year-old oaks, linden trees, birches, elms and features deep loessic ravines inviting for long walks and outdoor recreation activities.
The Gothic Church of All Saints was probably erected in the early 15th century, but fifty years later it was converted into a Calvin chapel. Returned to the Roman-Catholic parish in 1615, the church acquired its present late-Baroque appearance in the mid-18th century. It contains a few interesting art pieces (sculptures,paintings), some of them signed by Tomasz Hutter.
How the Tatars raised the castle hill in Czyżów?
The Czyżów manor was erected on a mound. According to legend, the elevation was not natural, but raised by the Tatars. It was the period of frequent Tatar invasions, and some of them were captured by the knight Zaklik of Międzygórze. The king ordered him to build a stronghold in Czyżów, but, following the example of Międzygórze and Tudorów, the stronghold was to be sited on an inaccessible hill. As there was no such one in Czyżów, the captured Tatars were carrying earth in wicker baskets for months till the elevation reached suitable dimensions. Eventually, a Gothic stronghold made from brick and white stone was constructed on the hilltop.
Practical information:
Tourist Information Point in Ostrowiec Świętokrzyski
ul. Siennieńska 54
27-400 Ostrowiec Św.
Phone: +48 41 247 65 80
www.ostrowiec.travel
Information can be obtained in The Regional Center of Tourist Information
ul. Sienkiewicza 29
25-007 Kielce
Phone: +48 41 348 00 60
E-mail: informacja@swietokrzyskie.travel
Location
Hidden text line that is needed to fix map width
21.784961
50.825619
Czyżów Szlachecki
Czyżów Szlachecki