National Museum in Kielce
Practical Information
Detailed Information

Zwiń

Rozwiń
Facilities:

Description in English
Guide in price
County:

Kielce

Community:

Kielce

Address:

Kielce , ul. Zamkowa 1

Postal Code:

25-010

Latitude:

50.869177114547

Longitude:

20.627431869507

Tourist region:

Kielce Region
Monday:

nieczynne

Tuesday:

10.00-18.00

Wednesday:

10.00-18.00

Thursday:

10.00-18.00

Friday:

10.00-18.00

Saturday:

10.00-18.00

Sunday:

10.00-18.00
price:

5-15 PLN

Discounts:
Phone:

+48 41 344 23 18

fax:

+48 41 344 82 61

E-mail:

Website:
Surrounding Accommodation

Zwiń

Rozwiń
Tourist opinions

Zwiń

Rozwiń
Description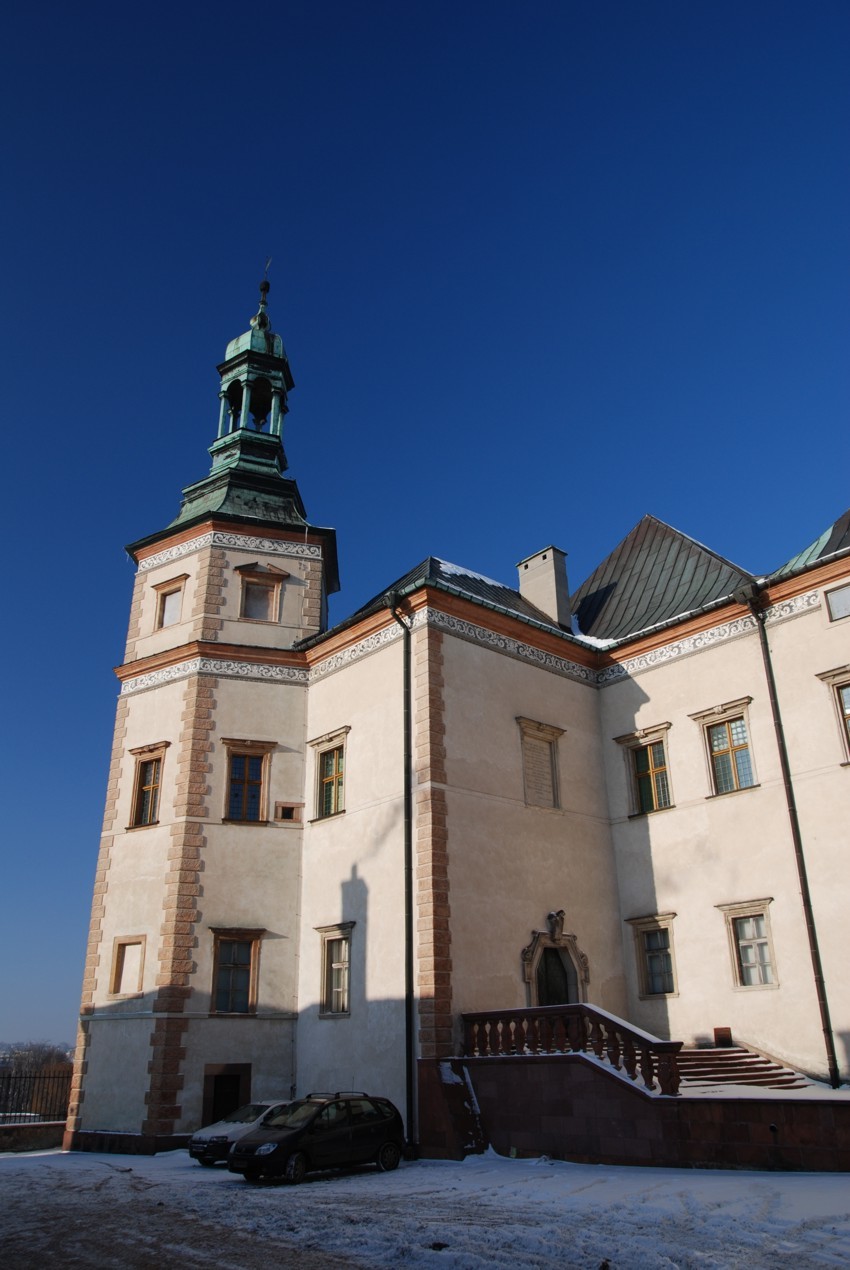 photo Grzegorz Szczęsny
The seat of the National Museum in Kielce is a palace, which once belonged to Cracow Bishops. The Cracow Bishops' palace was founded by Jakub Zadzik in the years 1637–1641. The bishops' palace is one of the best-preserved monuments of architecture in Poland dating back to the times of the Waza dynasty. The rooms on the first floor retained their original interiors, beam ceilings, ceilings decorated with paintings and walls decorated with friezes. At the back of the residence, they restored a decorative Italian garden with quarter arrangement dating back to the 17th century. The Museum conducting its activities in the place houses the following permanent exhibitions: Historic Interiors of the 17th and 18th centuries; Ancient European and Polish armament, the sanctuary of the Marshal Józef Piłsudski and the Gallery of Polish Painting and Decorative Art (with works of arts of such artists as, among others, P. Michałowski, J. Kossak, J. Brandt, J. Chełmoński and J. Malczewski).


The National Museum – Formem Cracow Bishops' Palace
Plac Zamkowy 1
25-010 Kielce
Phone: +48 41 344 23 18
www.mnki.pl
Opening hours:
Tuesday - Sunday: 10.00 - 18.00
Tickets prices:
full 10 PLN
half-price 8 PLN
Information can be obtained in The Regional Center of Tourist Information
ul. Sienkiewicza 29
25-007 Kielce
Phone: +48 41 348 00 60
e-mail: informacja@swietokrzyskie.travel
Location
Hidden text line that is needed to fix map width
20.627431869507
50.869177114547
Kielce, ul. Zamkowa 1
National Museum in Kielce