A Renewed you!
Practical Information
Detailed Information

Zwiń

Rozwiń
Object type:

For health and beauty
County:

buski

Community:

Busko-Zdrój

Address:

Busko-Zdrój , ul. Rokosza 1

Postal Code:

28-100

Latitude:

50.4558522

Longitude:

20.7161368

Tourist region:

Busko-Zdrój Region

Position:

City
Organizer name:

"Włókniarz" Sanatorium

Organizer data:

28-100 Busko-Zdrój, ul. Rokosza 1

Phone:

+48 41 370 70 57

E-mail:

Website:
Tourist opinions

Zwiń

Rozwiń
Description
Most of women, irrespective of age, cannot devote much time only to themselves. Work, homework, childcare do not allow for frequent beauty or rejuvenating treatments. That is why taking one weekend or even a week every couple of months is more popular than relaxing for two or three hours at lively home.

Sanatorium Włókniarz has prepared "Renewed You!" package especially for women aware of their femininity who, despite their constant lack of time, wish to improve their looks, rejuvenate and work on their well-being. Special relaxing and care treatments are tailored to suit the needs of every skin and preferences. Wide range of professional face and body treatments based on the newest achievements of aesthetic medicine and cosmetology make complete recuperation of feminine body possible.


You can choose from such treatments as:
- "Beautiful Face – Relaxing Rose Treatments": (Topp lifting, anti-wrinkle treatment, hydrating treatment, cavitational peeling and algae mask, "beautiful breasts" treatment);
- undulating massages;
- relaxing baths or beer jacuzzi reducing blood pressure;
- smoothing and softening baths with salt and algae;
- infra-red sauna;
- rejuvenating SPA-capsule;
- VACUMED treatment;
- Sun SPA;
- POWER SLIM;
- mechanotherapy;
- Aqua-massage – the first device of that kind in Poland.

All treatments are performed by professional cosmetologists or physiotherapists, so that therapy is effective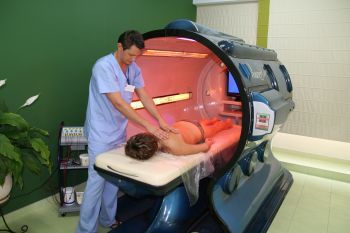 regardless of its duration. Sanatorium offers well-developed accommodation base – all the guest are lodged in single or double rooms with bathrooms, TV-Sat, telephone, kettle and refrigerator. Special facilities and direct passage between hotel rooms and sanatorium make the stay easy for the handicapped.
The well-being of women taking the package is influenced not only by extensive treatments, but also by the place itself (Busko-Zdrój the town with 320 sunny days a year). Sun exposure turns all the walks and cycling tours into free, natural fototherapy, charging your batteries for the next long weeks.

The offer presnted by:
"Włókniarz" Sanatorium
ul. Rokosza 1
28-100 Busko-Zdrój
Phone: +48 41 370 70 57
E-mail: sekretariat@wlokniarz.pl
www.wlokniarz.pl
Location
Hidden text line that is needed to fix map width
20.7161368
50.4558522
Busko-Zdrój, ul. Rokosza 1
A Renewed you!