Get better with Chopin!
Practical Information
Detailed Information

Zwiń

Rozwiń
Object type:

For health and beauty
County:

buski

Community:

Busko-Zdrój

Address:

Busko-Zdrój , ul. 1 Maja 10

Postal Code:

28-100

Latitude:

50.4596786

Longitude:

20.7218952

Tourist region:

Busko-Zdrój Region

Position:

City
Organizer name:

Sanatorium Marconi

Organizer data:

28-100 Busko-Zdrój, ul. 1 Maja 10

Phone:

+48 41 370 31 51

fax:

+48 41 378 41 54

E-mail:

Website:
Tourist opinions

Zwiń

Rozwiń
Description
Stress and overwork very often make us feel despondent. Short-term solutions, such as music therapy and fototherapy are not effective in dealing with long-term problems leading to depression and burn-out syndrome. Not only middle aged people but also young workers with short but intensive career path are afflicted with this problem. Effective relaxation and restoring the joy of life – that is the core of "Get better with Chopin!", the package by Health Resort Busko-Zdrój S.A.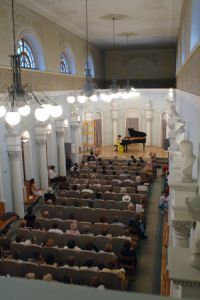 Interesting, non-standard leisure activities (usually involving physical activity) combined with wide range of beauty and fitness-improving treatments break the daily humdrum and bring the balance of body and soul back.
"Get Better with Chopin!" includes 14 day-long stay in the sun-fiiled, famous for therapeutic (sulphide) water health resort, in which relaxation treatments combine with diverse physical activity: hiking and bicycle trips, nordic walking and horseback riding. The variety of health and beauty (massages, baths, saunas, compresses, masks, etc.) treatments is impressive and in order to choose the best line of treatment and the most effective schedule, the stay starts with the doctor"s appointment.
The therapy is supplemented with the evening classical music concerts, the relaxing and therapeutic effect of which has been scientifically proven. All the concert are held in the Concert Hall of Sanatorium Marconi and are devoted mostly to the music of Chopin. For the last 15 years Professor Barbara Hesse-Bukowska, the main organiser of the concerts, has hosted the guests from Japan, Thailand, Spain, Brazil, Belarus, Lithuania, Germany, Canada, Kazakhstan, and Greece. Classical music, if frequently listened to in proper conditions (concert hall, solemn mood and lack of haste) enhances slow and deep relaxation. 14 days, however, is too little to develop good habits, but it should be perceived as a good starting point. Permanent and diverse physical activity, relaxation treatments with classical music reinforcement will allow you to calm down, rest and introduce new habits of relaxation and healthy lifestyle into daily routine.

Additional information:
The patients should bring recent results of basic tests – BSR, morphology, ECG, urine analysis, chest X-ray. It is possible to do all the tests in Health Resort, but it involves additional fee and resignation from the first scheduled day of the package.

The offer proposed by:
Sanatorium Marconi
ul. 1 Maja 10
28-100 Busko-Zdrój
Phone: +48 41 370 31 51
rezerwacja@ubz.pl
www.uzdrowiskobusko.pl
Location
Hidden text line that is needed to fix map width
20.7218952
50.4596786
Busko-Zdrój, ul. 1 Maja 10
Get better with Chopin!