Medieval Settlement in Huta Szklana
Practical Information
Detailed Information

Zwiń

Rozwiń
County:

kielecki

Community:

Bieliny

Address:

Bieliny

Tourist region:

Kielce Region

Position:

Countryside
Organizer name:

Local Activity Group - Wokół Łysej Góry

Organizer data:

26-004 Bieliny, ul. Partyzantów 17

Phone:

+48 41 302 50 94 w. 213

fax:

+48 41 302 61 07

E-mail:

Website:
Tourist opinions

Zwiń

Rozwiń
Description
An exceptional place is built in Huta Szklana – a small village in Bieliny Commune. A medieval settlement in which the times goes few centuries back. Once you cross the entrance gate you feel as if time travel machine threw you into distant past. Homesteads and workshops from 11th and 12th century and the Herbalist"s Shack invite you to take one more step. And then another one.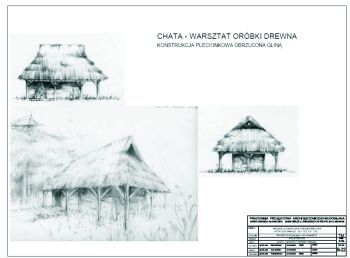 Medieval Settlement gives you unique opportunity to encounter the 12th – century reality with all its flavour: pagan Gods – Świst, Poświst and Pogoda worshipped centuries ago by the locals on the top of Łysa Mountain; the hardship and labour of daily life when all the household appliances were made by hand and food had to be produced or caught – not taken from supermarket shelves; you will meet the inhabitants concentrated on their daily work. You will see pottery workshop, blacksmith"s, wood carver and forest bee-keeper. You can find out how hard it is to make a pot or weave linen for a coarse shirt. The hamlet's central part, surrounded by the marsh, is the place in which the wooden and stone statues of Świętokrzyskie legends" protagonists stand. They bring the world of terror, magic and mystery back. The atmosphere of medieval daily life is present in the typical homestead with clay walls and hatched roof. The ghosts of the past dwell in the cellars, in which the culinary titbits are stored and in the flax, wheat and millet fields. By taking a gravelled path from the entry gate to the highest point of the hamlet, you go past a Herbalist"s Shack with beds of aromatic herbs or other mysterious plants as well as a hearth ready to boil magic potions healing various conditions of body and spirit. In the end you must pay a visit to a small, wooden church – a place of "the Christian mission".
The stay in medieval settlement is like a time travel – from the pagan ages to the times of Christianity. The hours spent among the resurrected souls of forefathers are not only an interesting experience, but also a valuable history lesson. One can see for his or her own eyes that medieval life, despite all its hardship and tough work, was also colourful, full of joy and enchanting with its symbiosis with sacrum inhibited by gods, witches and heroes of old-Slavic legends.

Practical Information
Medieval Settlement is in Huta Szklana, the village at the foot of Święty Krzyż. Individual guests can find
accommodation in numerous agrotourism farms of Bieliny Commune, whereas the groups can stay in Jodłowy Dwór Holiday Resort and in the planned youth hostel in the Primary School in Huta Stara. The Bieliny Commune offers "Kraina Legend Świętokrzyskich" - organised field games based on the legends of the Świętokrzyski Region.

The offer proposed by:
Local Activity Group - Wokół Łysej Góry
ul. Partyzantów 17
26-004 Bieliny
Phone: +48 41 302 50 94 w. 213
E-mail: wokollysejgory@wp.pl
www.wokollysejgory.pl