My Metamorphosis
Practical Information
Detailed Information

Zwiń

Rozwiń
Object type:

For health and beauty
County:

Kielce

Community:

Kielce

Address:

Kielce , al. Solidarności 34

Postal Code:

25-323

Latitude:

50.8813252

Longitude:

20.6540685

Tourist region:

Kielce Region

Position:

City
Organizer name:

SPA&BEAUTY Institute

Organizer data:

25-323 Kielce, al. Solidarności 34

Phone:

+48 41 33 26 474

E-mail:

Website:
Tourist opinions

Zwiń

Rozwiń
Description
Fast-paced lifestyle has become so common that it does not allow us to take care of our beauty, health and of our physical and mental well-being. But even if you cannot afford to take few days or even a weekend off, it is still beneficial to devote one afternoon only to your body in order to regain balance and energy for the next couple of days.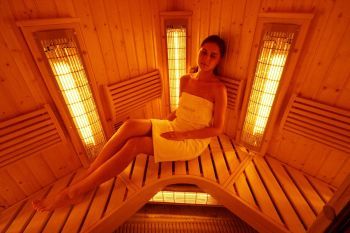 Infra-Sauna
SPA&Beauty Institute in Kongresowy Hotel in Kielce offers "My Metamorphosis" - afternoon (few hours) long relaxing, rejuvenating and invigorating treatment. The core of the package offer are treatments on the basis of purely natural cosmetics Pevonia Botanica Allesandro, Gehwol.
Relaxing afternoon in luxurious interior starts with infra-sauna and aromatic, relaxing bath in jacuzzi set on hydro-massage mode. Rejuvenating and skin texture improving treatments (Pevonia Botanica) restoring resilience of body and glitter of face are the next step. The following hour is filled with pedicure SPA and traditional manicure preparing feet and hands to the big night out. Last but not least is the balinese massage of the whole body (including head and face) with the use of warm oil. It certainly will take your thoughts to beautiful Bali beaches, restore harmony of energy, relax and incite your body to recuperate.
The whole pleasure lasts only few hours, but carefully selected and prepared treatments will certainly relax, kill stress and rejuvenate. The treatments are universal, perfect for both men and women.

The offer is presented by:
SPA & BEAUTY Institute
al. Solidarności 34
25-323 Kielce
Phone: +48 41 33 26 474
instytut@spakielce.pl
www.spakielce.pl
Location
Hidden text line that is needed to fix map width
20.6540685
50.8813252
Kielce, al. Solidarności 34
My Metamorphosis