Skiing – closer you would ever imagine!
Practical Information
Detailed Information

Zwiń

Rozwiń
County:

kielecki

Community:

Daleszyce

Address:

Niestachów

Latitude:

50.825337

Longitude:

20.741863

Tourist region:

Kielce Region

Position:

Forest
Organizer name:

Niestachów Ski Resort

Organizer data:

Niestachów, 1 167

Phone:

+48 41 302 10 48

Phone (mobile):

+48 664 978 173

E-mail:

Website:
Description
There are eight skiing facilities in the Świętokrzyski Region with almost twenty ski lifts, so there is plenty of skiing opportunities for all winter sports lovers. You don't have to go through traffic jams on the road to Zakopane or Krynicain order to enjoy skiing or snowboarding.
Ski resort in Niestachów, only 10km from Kielce, offers professionally prepared, mild skiing routes of various length and difficulty level. They are tailored to the beginners and intermediate skiers' needs, yet they still can satisfy more advanced users. It is a perfect place for family skiing and a great opportunity for a child to start an adventure with winter sports. For that reason special "kindergarten ski lift" of 80 meters with additional toy-obstacles (made of sponge-like material) was prepared in order to make the first turns easier and even more enjoyable. Lager groups can take advantage of discounts offered daily Monday-Thursday which guarantee relaxing stay without rush hours on the slopes. Ski resort in Niestachów offers 5 new ski lifts of 450, 430, 220, 120 and 100 meters (T-bar lifts and J-bar lifts). All the routes are prepared with the use of modern artificial snow machines and snow tractors. Moreover, all the routes are lit. In order to avoid long queues at the lift, brand new electronic system with proximate cards has been introduced. You can rent skiing and snowboarding equipment right in the resort. The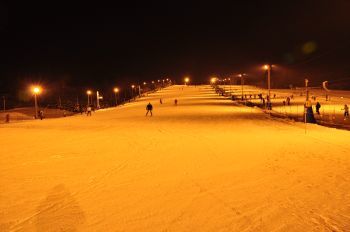 rental facility offers over 200 pairs of carving skis for both children and adults as well as over 50 snowboards with quick-step shoes, so you will certainly find something fitting your shape, height, weight and… style. A short brake can be made in a bar, where one can enjoy tea, coffee or hot chocolate. A huge advantage of the resort is the proximity of restaurants, hotels, motels and holiday resorts. Cedzyna is 3km away and offers two- and three-star hotels, Suków (3km away) tempts with highlander's inn, Borków has a wide range of holiday resorts, which provide boarding and accommodation facilities, whereas Daleszyce provides even more accommodation facilities. A trip to Świętokrzyskie is a high-class leisure without the need of long and mundane journey.
The offer proposed by:
Niestachów Skiing Resort
Phone: +48 41 302 10 48
E-mail: narty@niestachow.pl
www.niestachow.pl
Location
Hidden text line that is needed to fix map width
20.741863
50.825337
Niestachów
Skiing – closer you would ever imagine!