The Apple Paradise – Three Days on the Apple Trail of Sandomierz
Practical Information
Detailed Information

Zwiń

Rozwiń
Object type:

Holiday in the countryside
With family
County:

sandomierski

Community:

Sandomierz

Address:

Sandomierz Region

Tourist region:

Sandomierz Region

Position:

Countryside
Organizer name:

"Apple Trail of Sandomierz"

Organizer data:

Sandomierz, ul. Mokoszyńska

Phone:

+48 15 833 31 00 wew. 45

Phone (mobile):

+48 662 463 047 (p. Jadwiga Małkiewicz)

Website:
Tourist opinions

Zwiń

Rozwiń
Description
The Apple Trail of Sandomierz presents unique and picturesque landscape and cultural heritage of the Sandomierz Region which for many years has been associated with fruit farming and fruit and vegetable processing. The route links interesting places and presents unique historical and natural sights. The Tourist wandering through this land can feel the nature, see not only picturesque landscapes but also exquisite monuments of masonry and wooden architecture, manor houses with marvellous, hundred-year-old trees in landscape parks.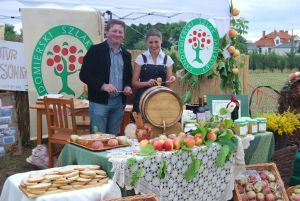 Special marks signifying the history of this land are crosses, roadside shrines and wooden or stone statues.
The main Apple route links over 30 fruit farms which for two or three generations has grown apples, pears, stone fruit, berries and hazelnuts. The Apple Paradise offers stay in such fruit processing farms where you can get professional, innovative gardening or technological advice and learn on new technologies. You can also try the most delicious fruit, of both forgotten and modern variety as well as homemade preserves. In 8 agrotourism and food processing farms you can also visit the wine cellars. Over 10 grape varieties grow there which can be bought during the fruit-picking season. You can also enjoy the taste of regional wines, fruit liqueurs or other alcoholic beverages.
Over thousand square-meters large fishing farm in Zawidza (Łoniów Commune) is a real phenomenon with over 12 fish species, such as European catfish, pikeperch, carp, pike, trout and crucian. You can catch or buy fish or try delicious fish dishes, such as grilled carp. Tourists can take a boat trip to the island or see Vietnamese pigs or a pony.
Open air theme events such as the Feast of the Blooming Apple Tree, Strawberry Day, the Feast of Apple-Picking or Tomato Day are also very popular. You can get extensive theoretical and practical knowledge on fruit farming.
Practical information:
The trail covers virtually over 200 km of all the communes of Sandomierz region. It starts in "ŚODR Gardening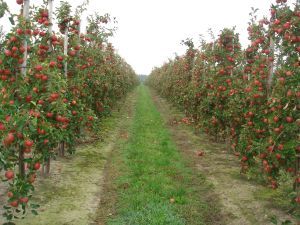 Centre" in Mokoszyńska street in Sandomierz and leads through Samborzec, Koprzywnica, Łoniów, Klimontów, Obrazów, Wilczyce, Dwikozy and Zawichost communes. Long distances make the trail perfect for the motorized tourists. You can choose a smaller part of the trail and organize a hiking or bicycle trip. Some say that there is no prettier place than the region of Sandomierz when the orchards bloom. The whole land is covered in pink foam or pure, white snow of blossom. And the autumn, when ripping red apples are everywhere, it looks picturesque and beautiful as well. Autumn stroll in the orchards is not only aesthetic experience, but also a feast. A well-cultivated orchard is an interesting site for tourist without knowledge on fruit farming. Traditional orchards are on the trail as well.

The offer presented by:
"Apple Trail of Sandomierz"
ul. Mokoszyńska
Phone: +48 15 833 31 00 wew. 45
www.szlakjablkowy.eu