The Trail around the Sun
Practical Information
Detailed Information

Zwiń

Rozwiń
Object type:

Holiday sweet laziness
With family
County:

buski

Community:

Busko-Zdrój

Address:

Busko-Zdrój

Latitude:

50.4703621

Longitude:

20.7191757

Tourist region:

Busko-Zdrój Region

Position:

City
Organizer name:

Słoneczny Lider - Local Activity Group of the Busko-Zdrój Region

Organizer data:

28-100 Zbludowice, ul. Świętokrzyska 9

Phone:

+48 41 378 71 77

Phone (mobile):

+48 661 435 045

E-mail:

Website:
Tourist opinions

Zwiń

Rozwiń
Description
You dread for the weather each time you plan your summer holidays? There is nothing more disappointing than rainy and cold weekend. There is one place in Poland, however, where the Sun shines for 1551 hours a year! It is called Busko-Zdrój and it is a perfect for climatotherapy. Exquisite microclimate of Busko-Zdrój creates perfect conditions for good rest.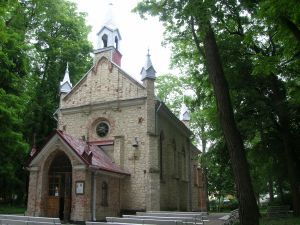 Taking the Trail around the Sun is both adventurous and optimism-charging. The farms on the Trail guarantee that you will learn all the best of the region. You can taste heart- and soul-warming anisette in the "Peach Orchard" or the Wine from the Foot of the Kapturowa Góra in Pęczlice. All the traditional plum jam and traditionally baked bread lovers will not be disappointed as well.
The Świętokrzyskie Region has one of the most diverse and delicious cuisines in Poland. On your visit to Busko-Zdrój you should definitely try the dishes made of bean from Nowy Korczyn which won the Best Regional Food Product Award – The Pearl 2004.
A stay in Busko-Zdrój is also a perfect opportunity to improve your mental and physical health. Agrotourism farms and SPA resorts offer swimming pools, gyms and rehabilitation facilities. Some farms offer hippotherapy
or physical activity classes for the disabled. Bread baking and pottery classes along with displays of traditional habits and customs presented by the regional group is perfect for you if you wish to relax in an alternative way. It is a perfect opportunity to learn the unique culture and tradition of the Świętokrzyskie Voivodeship. The healing power can be felt during the long strolls in the picturesque and interesting terrains. Szaniecki and Nadnidziański Landscape Parks, Skorocice reserve, marvellous complex of carst caves in Kijów or brine water spring in Owczary are not very far away from Busko-Zdrój. The Trail around the Sun is a fine way to spend free time and a perfect proposition for those longing for sunlight and warmth. After such natural phototherapy you will feel the tiredness and fatigue go away and the willingness to live and act awakens.
The offer proposed by:
Słoneczny Lider - Local Activity Group of the Busko-Zdrój Region
ul. Świętokrzyska 9
28-100 Zbludowice
Phone: +48 41 378 71 77
E-mail: biuro@slonecznylider.pl
www.slonecznylider.pl
Location
Hidden text line that is needed to fix map width
20.7191757
50.4703621
Busko-Zdrój
The Trail around the Sun