Central Basin of Kamienna River
Practical Information
Detailed Information

Zwiń

Rozwiń
Object type:

Bicycle

Difficulty of the route:

Intermediate

Route route:

Ostrowiec

Locations on the route:

Gromadzice - Jędrzejowice - Świrna - Kunów - Nietulisko Małe - Sadłowizna - Kurzacze - Krzemionki - Czarna Glina - Brzóstowa - Wszechświęte – Gromadzice

Attractions on the route:

Manor House in Gromadzice, Saint Władysław Church in Kunów, Mano House in Nietulisko Małe, Krzemionki Archeological Reserve, Parish Church in Wszechświęte

Route length:

64km
Tourist region:

Ostrowiec Świętokrzyski Region
Organizer name:

PTTK Branch of Stanisław Radwan in Ostrowiec Świętokrzyski

Organizer data:

27-400 Ostrowiec Świętokrzyski, al. 3 maja 8

Phone:

+48 505 444 874

Website:
Tourist opinions

Zwiń

Rozwiń
Description
Kamienna Basin is an area that already has been famous for developing of ancient industry. The Neolithic flint was explored here, and later formed here dymarki, unique for this area only. It is also worth looking at religious monuments in the area.

Course: Gromadzice - Jędrzejowice - Świrna - Kunów - Nietulisko Małe - Sadłowizna - Kurzacze - Krzemionki - Czarna Glina - Brzóstowa - Wszechświęte – Gromadzice
Lenght: 64 km
Colour: yellow
Difficulty: intermediate

Gromadzice – in the village one should notice the remains of the band manor from the late19. and early 20. century, and a number of movable monuments such as the figure of Saint Jan Nepomucen from 1825 and a statue of the Holy Virgin Mary from 1925.
Kunów – one of the oldest settlements on the Kamienna River, which was exploited by the ancient area steelworkers. Dymarskie furnances were here so characteristic that modern scholars call this type "kotlinki kunowskie". In Kunów, worth to see is the church, built between 1625-1942. Reconstruction of the years 1850 and 1898 obliterated much of its original, late-Renaissance character. The 19th century stone altars by stonework of local masters are worth to notice. In the main altar is a copy of Raphael"s Crucifixion, founded by Fr. Szymon Koch, largely repainted in later years. Next to the church a belfry from 1896 is situated. Designed by Wojciech Gerson, famous for paintings, mainly.
Nietulisko Małe – see a complex of park-manor with a timber house from the 19. century and the settlement located at the tip cut off by a moat.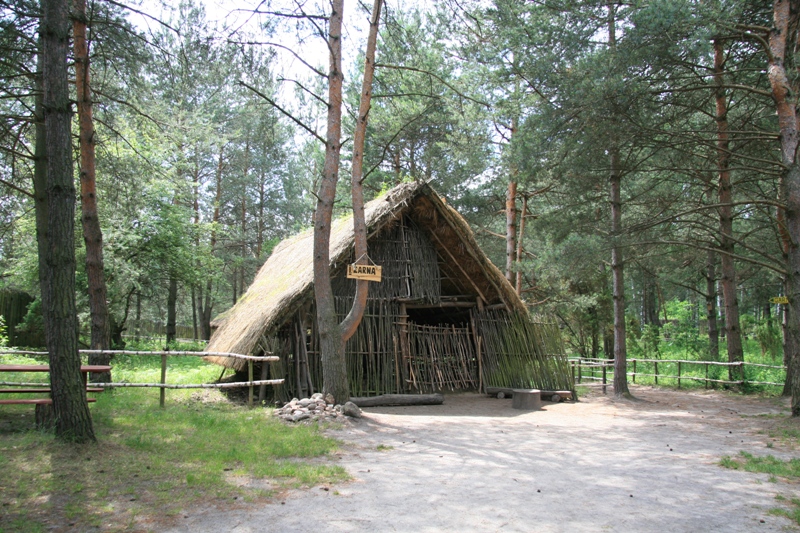 Krzemionki - The locality of Krzemionki is situated some 8 km north-east of Ostrowiec Świętokrzyski. In 1922, a geologist Jan Samsonowicz discovered here Europe"s biggest mining fields from the Neolithic period, where striped flint was extracted in the years 3900-1600 B.C. This kind of flint is found in Poland only in the Świętokrzyski region near such localities as Krzemionki, Ożarów, Iłża and Śródborze. Striped flint belongs to semi-precious stones and is willingly used by jewelers who set it in silver. It"s become fashionable in many countries and is considered as stone providing energy, power, and having medicinal properties. I"s often called the stone of optimism.
Wszechświęte – the parish church of All Saints, built in 1460 years in the Gothic style, upgraded in the 18. century. Inside there are altars, choir stalls and the font of the 18. century. Church burned in 1882, and ten years later it was rebuilt and consecrated.
More information: www.sejmik.kielce.pl