On the Masłowki Chain
Practical Information
Detailed Information
Tourist opinions
Detailed Information

Zwiń

Rozwiń
General
Object type:

Walking

Difficulty of the route:

Beginners

Route route:

Kielecki

Locations on the route:

Ciekoty –Lubrzanka's Gorge – Dąbrówka – "Diabelski Kamień" (Devil's Stone) – Klonówka – Masłów Pierwszy – Domaniówka – Kielce (Northern Districts)
Location
Tourist region:

Kielce Region
Keeper of the trail
Organizer name:

Świętokrzyski PTTK Branch in Kielce

Organizer data:

25-007 Kielce, ul. Sienkiewicza 29

Phone:

+48 41 344 77 43

fax:

+48 41 344 59 14

E-mail:

Website:
Tourist opinions

Zwiń

Rozwiń
Description
This very scenic trail leads through a picturesque Lubrzanka's Gorge. The most fascinating natural monument is Devil"s Stone, around which created many legends. A trip is a great opportunity to see the landscapes of the Holy Cross Mountains.
Course: Ciekoty –Lubrzanka's Gorge – Dąbrówka – "Diabelski Kamień" (Devil's Stone) – Klonówka – Masłów Pierwszy – Domaniówka – Kielce (Northern Districts)
Marking: Section Ciekoty –Lubrzanka's Gorge - blue; section Przełom Lubrzanki – Dąbrowa - red; section Dąbrowa – Kielce - without marks.
Time: about 3h
Lenght: 14km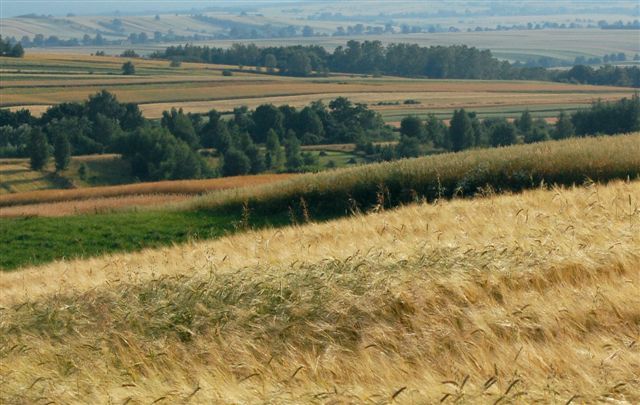 Ciekoty – is a placed called "Żeromszczyzną," where Stefan Żeromski, one of the most famous writers, was born. It is commemorated by a plaque made of red sandstone with description: "Stefan Żeromski lived there 1869-1883". Presently, the construction for Education Centre "The Glass House" has been here, referring to the architectural form of literary vision of Żeromski's literature. There is a lake, around which land was utilized for recreational purposes.
Lubrzanka's Gorge–this place is considered the most picturesque in the Świętokrzyskie Mountains. Lubrzanka separates the Masłowskie band from Łysogóry.
Devil's Stone - inanimate nature monument on the southern Klonówa which ridge stretches for 2km. This is the outcrop of the Cambrian quartzitic sandstones of almost 5m, 8m wide and 10m long. One can see a wonderful view of the Zgórskie, Posłowickie, Dymińskie, Cisowskie and Orłowińskie Bands, as well as, Radostowa, Łysica and Łysiec (Mountains). This place is connected with many legends, as evidence by the name of this unusual rock.
Masłów – in the village is the church and its style refers to the Romanesque and Gothic art. The building was constructed between 1927-1937. One should notice the intricate stained glass windows with images of saints and blessed. Among the inhabitants of Kielce, Maslow is known as the sports airfield, which was built in 1937.
Kielce-Dąbrowa – one should notice the wooden chapel of the Blessed Virgin Mary Mother of Church built in 19th century. Oriented building consists of a rectangular nave, presbytery three walls, porch and vestry. The chapel has log construction on a stone foundation. There is a roof rafter-beam. Hexagonal tower with tin copula dominates here.