Sandomierskie Landscapes (1)
Practical Information
Detailed Information

Zwiń

Rozwiń
Object type:

Bicycle

Difficulty of the route:

Beginners

Route route:

Sandomierz

Locations on the route:

Sandomierz (ul. Mostowa - ul. Zarzekowice - ul. Koćmierzów - ul. Wielowieś - ul. Sobowska) - Furmany - Trześń - Sandomierz (ul. Sielecka - ul. Wielowiejska - ul. Zaleśna - ul. Holownicza - ul. Flisaków - ul. Powiśle - ul. Lwowska)

Attractions on the route:

Opatowska Gate, Market Square, Town Hall, Underground Tourist Route, Cathedral in Kielce, Dom Długosza, Collegium Gostomianum, Castle, Saint Jakub"s Castle, Gorge of Queen Jadwiga

Route length:

18km
Tourist region:

Sandomierz Region
Organizer name:

PTTK Branch in Sandomierz

Organizer data:

27-600 Sandomierz, ul. Rynek 12

Phone:

+48 15 832 23 05

fax:

+48 15 832 26 82

E-mail:

Website:
Tourist opinions

Zwiń

Rozwiń
Description
The perfect solution for a short, scenic trip. The trail leads mostly asphalt roads with low traffic car. The route offers spectacular views of the Sandomierz hills and old town.
Course: Sandomierz (ul. Mostowa - ul. Zarzekowice - ul. Koćmierzów - ul. Wielowieś - ul. Sobowska) - Furmany - Trześń - Sandomierz (ul. Sielecka - ul. Wielowiejska - ul. Zaleśna - ul. Holownicza - ul. Flisaków - ul. Powiśle - ul. Lwowska)
Lenght: 18 km
Colour: yellow
Dificulty: easy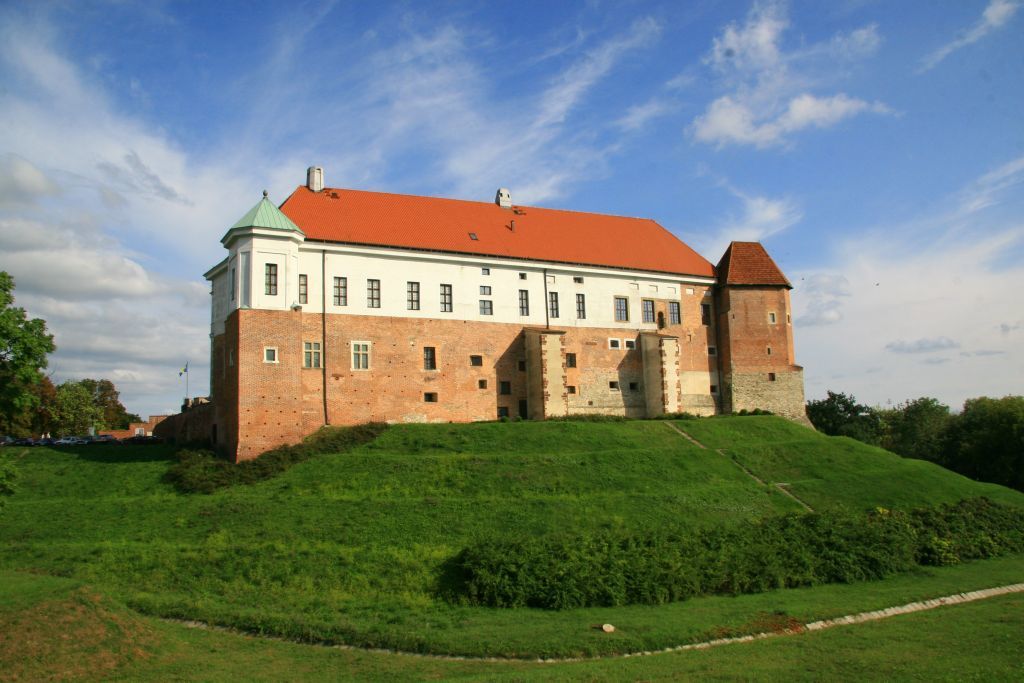 Sandomierz - occupying a few hills and a high escarpment from which enfolds a splendid view over the Vistula valley, the town has more than 120 monuments of architecture. Most of them date back to the Middle Ages and that"s why Sandomierz is considered a real gem of the Świętokrzyski region. The highlight of the town is its old town with the Renaissance town hall standing in the middle of the market square. The ground floor of the town hall is occupied by the exhibitions of the Regional Museum; they reveal to us the historical development of Sandomierz. Interesting are old burgher houses that line the market square. Worth a special attention is the Oleśnicki family house (16th c.), Mikołaj Gomółka house (16th c.), St Andrzej Bobola boarding school (17th c.), and the House Under Ciżemka (16th c.). Very beautiful view of the market square can be enjoyed by those who enter the town through Opatów Gate (Brama Opatowska), one of Poland"s best preserved medieval city gates. There were four such gates incorporated in the medieval defensive system of the town, but only Opatów Gate survived. Visitors can admire the panoramic view of the old town from its top (30 m). The Sandomierz market square can also be admired from the underground level. One of the town"s star attractions is the Underground Tourist Route (470 m in length, 12 m in depth), which leads through a chain of 30-odd cellars beneath the houses around the market square.
Wielowieś - The settlement was recorded as early as the 13. century, the seat of General House of the Sisters of St. Dominic in Poland.
Trześń - mention of the town dates from the 14. century, there is a neo-Gothic parish church from the early 20. Century.

More information: www.sejmik.kielce.pl