Świętokrzyski Archeo – Geo Trail no 1.
Practical Information
Detailed Information

Zwiń

Rozwiń
Object type:

Walking

Difficulty of the route:

Beginners

Route route:

Kielecki

Locations on the route:

Chęciny – Góra Zamkowa – Chęciny – Cave Piekło – Cave Raj – Mountain Zalejowa – Chęciny
Tourist region:

Kielce Region
Organizer name:

Świętokrzyski PTTK Branch in Kielce

Organizer data:

25-007 Kielce, ul. Sienkiewicza 29

Phone:

+48 41 344 77 43

fax:

+48 41 344 59 14

E-mail:

Website:
Tourist opinions

Zwiń

Rozwiń
Description
This is a perfect route for geology's lovers, because it leads to three geological reserves. An unforgettable experience gives a visit in the Raj Cave, which has nearly forty years consistently delights visitors with wonderful garment stalactite.

Course: Chęciny – Góra Zamkowa – Chęciny – Cave Piekło – Cave Raj – Mountain Zalejowa – Chęciny
Marking: section Chęciny – Mountain Zamkowa – Chęciny – yellow marking; section Chęciny – Cave Raj - blue marking; section Cave Raj – Kielce – red marking.
Time: about 5h (Time does not include sightseeing).
Lenght: 17 km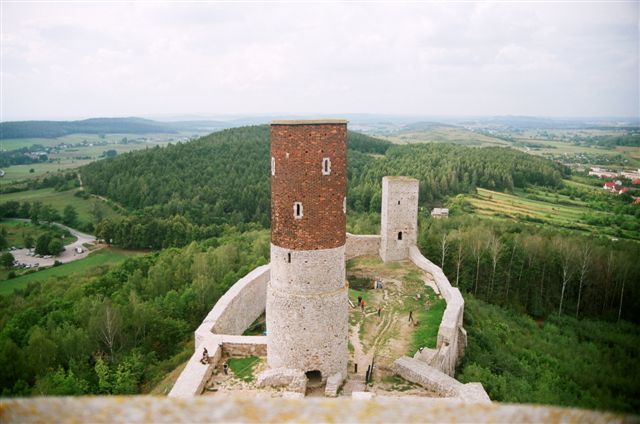 Chęciny - royal town till the 18th century, and the seat of a starosta who managed the district in king"s name. The town prospered under the rule of king Kazimierz Wielki (Casimir the Great). Worth to see is castle - rected on the limestone hill in 1306 by king Władysław Łokietek (Ladislaus the Short), the castle was designated to serve Cracovian bishop Jan Muskata. In subsequent centuries it often served royal widows as a refuge. It never regained its former splendor after ravages suffered during the Swedish invasion (17th c.) and the Partitions (1772-1795). Its elongated structure can be divided into two parts. The older (upper) one embellished by two round towers and the younger (lower) one with the quadrilateral tower built in the 15th century. The lower castle was used for administration purposes. On the other hand, on should notice Franciscan Monastery Complex. The monastery was founded by king Kazimierz Wielki in 1368. Ruined by Protestants and Swedes, it was rebuilt and enlarges in the later periods to acquire new cloisters, chapels and additional storeys. It was taken away from the Franciscans at the beginning of the 19th century and became a prison. Synagogue - The brick building was built after 1638. Preserved is the bimah made of black marble with the Chęciny marble inlays and frescoes.
Piekło "Hell" Cave near Skiby – located in north-western slope of Mount Żakowa (352 m), has long corridors - 57 meters. The name was given by local population and derived from 19th century. For the local people, the cave was created by devils. The cave belongs to a well-lit, however, to accurately and safely explore it, one must obtain the appropriate costume and a torch.
Żakowa Mountain - inanimate nature reserve in the municipality of Sitkówka-Nowiny was established in 1999 with an area of 50.48 hectares in order to protect remnants of the old mining, natural limestone forms and positions of xerothermic vegetation.
Raj Cave - taking a trip all around the Świętokrzyski Region, one only needs to turn off the E-7 motorway from Kraków to Kielce into a side roads to get to the very centre of "Raj" being the most beautiful cave in Poland.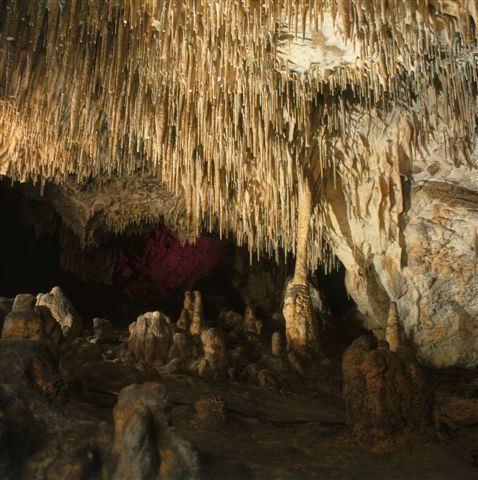 photo P. Pierściński
Nature has for ages created its underground complex of breathtaking tunnels and chambers decorated with hundreds of stalagmites, stalactites, pillars and pisoids of various shapes and forms. A 180-metre underground route was opened especially for tourists, who may admire the fairy- tale like underground world. The entrance of the cave houses an exhibition with its restored camp of a Neanderthal family, three natural sized figures and remains of prehistoric animals such as the mammoth, hairy rhinoceros and cave bear.
Zalejowa - from the 16th century Zelejowa was famous for mining the most beautiful species in marble so-called "Różanka Zelejowska. It was mined until the second half of the last century. Since 1954 the greater part of the mountain has been protected as a inanimate nature reserve. Covers 67 hectares. Specially protected are rocky outcrop and the most valuable of the Polish examples of karst weathering in the form of craters, fissures and cavities as well as vegetation grasslands (warmth) with plenty of dwarf trees and thorny shrubs.