Towards Szczytniak
Practical Information
Detailed Information

Zwiń

Rozwiń
Object type:

Walking

Difficulty of the route:

Intermediate

Route route:

Opatow

Locations on the route:

Gołoszyce – Truskolaska – Wesołówka –Witosławska Pass – Szczytniak –Jeleniowska Pass – Piórków
Tourist region:

Kielce Region
Opatów Region
Organizer name:

Świętokrzyski PTTK Branch in Kielce

Organizer data:

25-007 Kielce, ul. Sienkiewicza 29

Phone:

+48 41 344 77 43

fax:

+48 41 344 59 14

E-mail:

Website:
Tourist opinions

Zwiń

Rozwiń
Description
The main route leads through the most popular trail of Świętokrzyskie Mountains – The Edmund Massalski Trail. The highlight of the expedition is Szczytniak Mountain, the highest elevation of Jeleniowskie Chain, on top of which is a scenic reserve.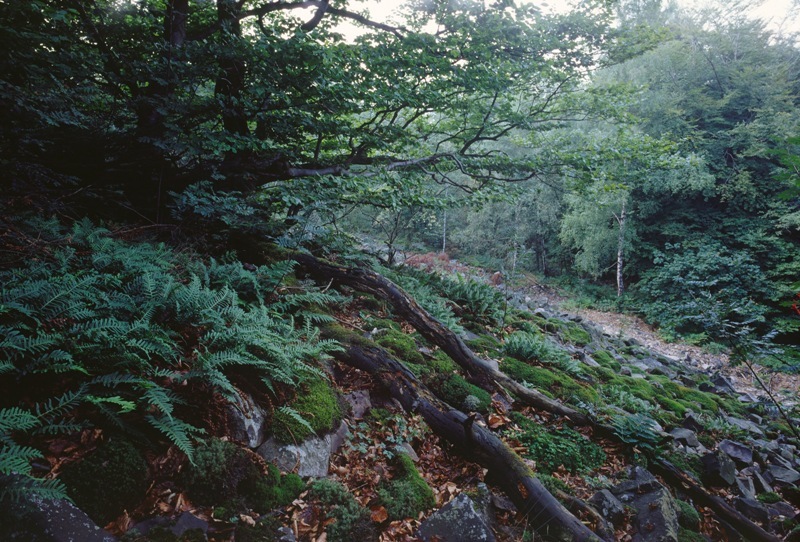 photo P. Pierściński
Course: Gołoszyce – Truskolaska – Wesołówka –Witosławska Pass – Szczytniak –Jeleniowska Pass – Piórków
Marking: section Gołoszyce – Jeleniowska pass – red marking; section Jeleniowska Pass– Piórkówwithout marking.
Time: about 4:40h (Time does not include sightseeing).
Lenght: 16,5 km
Gołoszyce – it is a village where the main tourist trail of Edmund Massalski in the Świetokrzyskie Mountains is started. The route marked with red color has a length of 105 km and passes through Jeleniowski Chain, Łysogóry, Masłowski Chain as well as Oblęgorski Chain. The avenue of lime trees leads to the manor. On the edge of the forest there is a cemetery of World War I.
Szczytniak - the highest mountain of Jeleniowski Chain. In an area of 6.03 hectares, the reserve Szczytniak, protects ancient forest covered with fir-beech primeval nature, which surrounds rocky debris of Cambrian sandstones - considered as the oldest in the Świętokrzyskie Mountains. This is an example of forest ended process of mechanical weathering of rocks in a cold climate during the Ice Age, as well as slow fouling "naked from the forest" areas.
Piórków – the town in this situated at Kielce - Lublin route. One should pay attention to the 17th-century cemetery chapel, which stands near the road known as "God"s Passion" – to commemorate of Insurgents of January Uprising. In its vicinity was formerly the manor, which is remained only by chapel, built in 1640, which now constitutes the parish church presbytery. Once surrounded by a moat, this octagonal building still stands on a small hill. One should notice the plaque commemorating the Insurgents of January Uprising and a few teachers - the victims of World War II. Near the church, an iron obelisk with an anchor is situated. Its was made by Mr Kazimierz Kaczor, regionalist, who has had his private ethnographical and regional museum , called Piórkownią in the Duck. Piórkowianka River flows near and its water has extraordinary properties.