Traces of Henryk Sienkiewicz
Practical Information
Detailed Information

Zwiń

Rozwiń
Object type:

Walking

Difficulty of the route:

Beginners

Route route:

Kielecki

Locations on the route:

blęgorek – Barania – Widoma – Siniewska – Sieniów – Oblęgór - Oblęgorek
Tourist region:

Kielce Region
Organizer name:

Świętokrzyski PTTK Branch in Kielce

Organizer data:

25-007 Kielce, ul. Sienkiewicza 29

Phone:

+48 41 344 77 43

fax:

+48 41 344 59 14

E-mail:

Website:
Tourist opinions

Zwiń

Rozwiń
Description
An ideal offer for an afternoon walk. Stunning scenery of Suchedniowsko-Oblęgorski National Park, gorges of Barania, as well as, Henryk Sienkiewicz Museum in Oblęgorek, make the route varied and interesting for everyone.
Course: Oblęgorek – Barania – Widoma – Siniewska – Sieniów – Oblęgór - Oblęgorek
Marking: section Oblęgorek – Barania - Black marking; section Barania – przysiółek Sieniów -red marking; section Sieniów – Oblęgorek -without marking.
Time: about 2:30h (Time does not include sightseeing).
Lenght: 11 km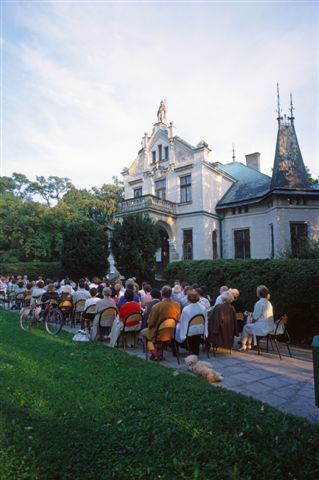 photo P. Pierściński
Oblęgorek - owes its fame to the Henryk Sienkiewicz Museum. In 1900, on the occasion of the 25th anniversary of his literary work, Henryk Sienkiewicz could move into a little palace situated in a scenic park. It was acquired from its owner thanks to donations of the writer"s compatriots. The eclectic building with a round tower was raised in the years 1900-1902 according to the project by architect Hugon Kudowa, while the park was designed by the autor of the Warsaw Botanical Garden. In 1948 the writer"s children turned the palace over to the state in order to create a museum, which was opened ten years later. The upper floor housed a display of biographic and literary character; it presents the writer"s literary achievements, jubilee gifts, manuscripts and his novels translated into many languages. The best proof of the writer"s international acclaim was the Nobel Prize granted to him for his great novel Quo vadis in 1905.
Barania Mountain (426 m) - forest reserve was created here in 1993, where the surface of 82.09 hectares, where multi-species natural forest with a number of ivy positions are protected. Scenic gorges of loess lead to the top of a mountain (also protected by the reserve). The remote location about 200 meters from the junction of red and black trails, allows to see extensive views over the surrounding countryside.
Siniewska Mountain (449 m) - the highest mountain of Oblęgorski Chain