Traces of Stefan Żeromski
Practical Information
Detailed Information
Tourist opinions
Detailed Information

Zwiń

Rozwiń
General
Object type:

Walking

Difficulty of the route:

Beginners

Route route:

Kielecki

Locations on the route:

Święta Katarzyna - Krajno Zagórze II – Ciekoty – Mąchocice (Lubrzanka Gorge) – Radostowa – Wymyślona – Góra Krajno – Święta Katarzyna
Location
Tourist region:

Kielce Region
Keeper of the trail
Organizer name:

Świętokrzyski PTTK Branch in Kielce

Organizer data:

25-007 Kielce, ul. Sienkiewicza 29

Phone:

+48 41 344 77 43

fax:

+48 41 344 59 14

E-mail:

Website:
Tourist opinions

Zwiń

Rozwiń
Description
The route is recommended to those who treat hiking as a way to see the places which are linked to biographies of famous people. The route views inspired our outstanding writer, Stefan Żeromski.
Course: Święta Katarzyna - Krajno Zagórze II – Ciekoty – Mąchocice (Lubrzanka Gorge) – Radostowa – Wymyślona – Góra Krajno – Święta Katarzyna
Marking: section Święta Katarzyna – Lubrzanka Gorge - blue marking; section Lubrzanka Gorge – Święta Katarzyna – red marking.
Time: about 4h (Time does not include sightseeing).
Lenght: 15km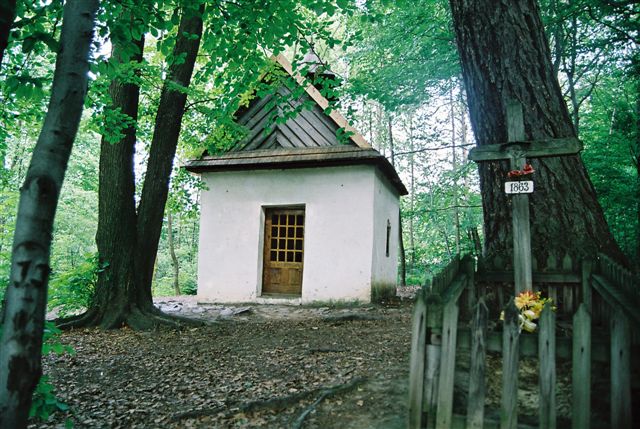 Święta Katarzyna - one should visit the Bernardine convent and Private Gallery of Minerals and Fossils – inevitable tourist point for lovers of geology, but also people sensitive to the beauty of inanimate nature. Tourists count on professional knowledge and information guides of the museum. Through the village runs the Edmund Massalski red tail from Kuźniaki to Gołoszyce. On the trail, which leads to Łysica, the highest mountain Mountains, there is a brick chapel of the 18th century, where Stefan Żeromski signed his name. Beside the chapel graves insurgent of 1863 and partisan of Second World War are located. According to many legends, the spring of Saint Franciszek has medical properties.
Krajno-Zagórze - at the end of the village, in a small hut, away from the main road, lived couple of folk poets - Wojciech and Rozalia Grzegorczykowie. One should know that Wilkowska Valley is sometimes called the Valley of Poets. This landscape can be seen in the pages of the novel of Stefan Żeromski and folk poems of the poets: Maria Cedro-Biskupowa or Katarzyna Zaborowska. On the left one will see Łysogórski Chain and Klonowski Chain.
Ciekoty – is a placed called "Żeromszczyzną," where was born Stefan Żeromski, one of the most famous writers. It is commemorated by a plaque made of red sandstone, "Stefan Zeromski lived there 1869-1883". "Education Centre "Glass House" has been erected here, referring to the architectural form of literary vision of Żeromski's literature. One can spend time on Ciekoty public beach.
Lubrzanka's Gorge – this place is considered the most picturesque in the Świętokrzyskie Mountains. Lubrzanka separates the Masłowski Chain from Łysogóry.
Radostowa (451 m) - "home mountain" of Stefan Żeromski. It is the western part of Łysogórski Chain. Ciekoty is situated at its base, north of the summit. One should notice that the region of Radostowa was explored by Domestic Army "Barabbas Group" in 1943.
Wymyślona (415 m) - a hill in Łysogórski Chain, known for sandstone monoliths Cambrian quartzite (protected as a monument of inanimate nature), which features spectacular views across the Valley Wilkowska. Monument to the Insurgents of Kielce by Zofia Wolska Bimer- standing by the road Bodzentyn -Kielce. It commemorates guerrillas of the Peasant Battalions and People"s Army who fought in World War II.